Andrea Gelpi
200 Hour YTTC
Yogkulam means family. They have been my family during this month of September. I have to say that this school is run from the heart, with highly qualified teachers, where I have learned from their experience and wisdom. With love and affection they have been aware of all our concerns and have taken great care of us. They are serious and professional, wanting to transmit yoga in the best way. And the views from the school are amazing. Al the best 😘
Jorge Gonzalez
200 Hour YTTC
Yogkulam truly is a yoga family. Very quickly we became like a family, sharing thoughts, ideas, dreams and cultural exchange. It was such a humbling experience, the teachers were great, overall the course syllabus is very complete. I learned so much about the lifelong journey that yoga represents. It was challenging everyday but there Is nothing that I regret coming to yogkulam. The food everyday was so delicious and nutritious, Sunil really took care of us. It was such a fresh and fun training because the teachers are young and very knowledgeable. Special thanks to Amitji and Jituji, our asana and theory teachers, and my dear friends!
Lucy Robertson
200 Hour Online YTTC
I recently completed my 200 hour online teacher training with Rishikesh yogkulam and would highly recommend them to anyone looking to undertake a teacher training course. Don't look any further! The teachers are incredibly knowledgeable, and are always available to answer any question. I loved the holistic approach to the curriculum with Hatha Asana, Ayurveda, Philosophy, Pranayama, and Meditation training. This holistic approach to teacher training helped me develop a wider perspective and learn how each is interconnected. Thank you Rishikesh yogkulam :)
Crystal Osuji
200 Hour YTTC
What a phenomenal month-long journey to the self with these guys! Rishikesh Yogkulam went above and beyond my expectations for a TTC. All of the teachers are very relatable and extremely passionate and knowledgeable about their craft. Going into the experience, I wanted to be able to take away as much information as I could to pass along to my future yoga students. This program really prepares you with all the tools you need and gives you the confidence you need to be an amazing yoga teacher. Thank you for sharing your culture and love of yoga with me. Rishikesh Yogkulam is an unforgettable experience. Thank you.
Reena
200 Hour YTTC
Wow!!! Having completed many courses in my life I left Yogkulam feeling inspired and wanting to learn more. The passion of ancient yogic knowledge oozes from the teachers who with love, respect and dignity hold true to what they believe and what they have been taught. They looked after my inflexible body and on my journey have knowingly or unknowingly taught me to respect and expand on the limitations which I have put on myself throughout my life. The 200Hr TTC is well thought out with great teachings on all levels of the Physical, Mental, Emotional and Spiritual aspects of life. Be inspired, feel whole and let go. We create our own walls so when you are ready free yourself. There's only one place I can recommend in Rishikesh to study yoga and that is Yogkulam. Join the family.
Eva Drabkova
500 Hour YTTC
If you do care more for the content than the famous name, then go for this school. Led by experienced teachers Dee and Amit in a professional way, yet very friendly atmosphere. I felt at home from the very first moment. We were a small group and thanks to it received all the attention from our teachers and got answers to all our questions. Many new inputs and inspiration for yoga practice. Premises are beautiful and the food is delicious prepared by the smiling chef :). Thank you for the unforgettable and beautiful experience!
Anaïs Guyon
200 Hour YTTC
I will highly recommend this school, with an extremely professional team of teachers. Because it's a small structure you will benefit from the best attention which is a really important point to choose a school and to progress I think. I took my training course with Amit and I can affirm he is a very good teacher, extremely knowledgeable, and overachiever. Him and all the team will take you high in your practice, your knowledge and will give you the confidence to teach your turn. Rishikesh yogkulam is a good choice!
Lucy Roberts
300 Hour YTTC
I followed my previous teacher Dee for my 300 hour yoga teacher training course to his new school which he runs with Amit, both exceptional teachers. My knowledge of asana and alignment has improved especially but all the classes were brilliant. The course is intense but well worth it. The food is delicious and cooked with love every single day. The rooms are light, bright, clean and spacious. The teachers took us on excursions around rishikesh on our day off, invited us to an Indian wedding and threw a lovely birthday celebration for one of the girls on the course. My group was small and we had a very special bond with each other by the end. Can't thank the teachers enough. I highly recommend this school.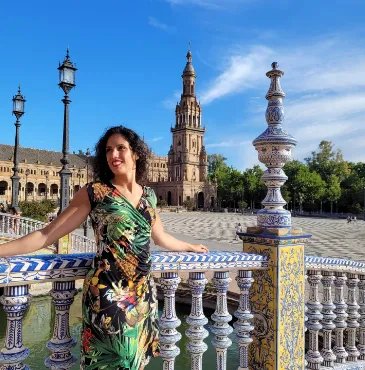 Jennifer Santiago
500 Hour YTTC
I did a lot of research for the perfect school and I am so glad I found it! The teachers are amazing, full of knowledge, willing to help you grow, always an ear for your questions, assistance if you have any problem or health issues, respect full and always in a good mood to share wonderful experiences and memories with you. I can't say enough thank you for all your kindness and knowledge I got from all the teachers of Rishikesh Yogkulam. I definitely will be back to keep studying with all of them. And a big hug to my colleagues there was one of a kind and so happy to have shared all this experience with them too. Definitely this school is the best you can find in Rishikesh. Dhanyawad
Hannah
200 Hour YTTC
Dhi and Amit gurujis will teach you to be both flexible and strong at the same time. I am so grateful I was able to learn from the best. They have the knowledge and passion to train you to be a better yogi and improve your practice. I have so much respect for both, and am so excited to see that they have teamed up to start a school that will optimally train your body, mind and spirit to be "healthy and happy". I would highly recommend it to any yogi to learn from Dhi and Amit. You will gain lifelong friends, not just teachers.